Last updated on November 18th, 2017
Rapid urban growth and sprawl in many developing regions, as well as urban decline in the post-industrial developed world places high demands on contemporary urban policy makers, managing authorities and urban planners. While this in itself is a huge challenge, the changing climate – especially in cities – places even greater demand on professionals to mitigate and adapt to climate change while enhancing the quality of life of urban dwellers. In the EU, the key challenge is to retrofit cities to adapt to changing climate in the short term, while contributing to the mitigation of climate change in a sustainable manner in the long-term. The knowledge base exists in pockets within cities, but the call to begin the planning and redesigning of urban areas with much more attention to climatic considerations is yet to be systematically attempted. Scientific knowledge about urban climate, pollution, ventilation and the implications of climate change needs to be integrated with urban planning and urban design while being mindful of practical planning and management barriers to implementation.
At the same time, issues needed to be addressed by urban planning and design are becoming increasingly complex – from sustainability issues, the UN's Millennium Development Goals, global and local (Urban Heat Island) warming and GHG/carbon reduction. Such a growth in issue coverage is far beyond the capacity of the fragmented knowledge of today's urban development professionals. Managing urban climate change in a sustainable manner is a vital need for the 21st Century and new professionals able to lead and manage this process are urgently needed.
The current multiplication of specialists cannot answer the core need for a professional with an overview of the issues of urban quality of life, with ability to manage the development process and give leadership. Central to this is the promotion of sustainable, climate sensitive urban growth with mutual understanding between professions. Such an inclusive and integrated education program targeting urban and global climate change did not exist until now.
In light of the above, a need exists for a common qualification which allows:
existing urban professionals to establish new knowledge and skills, and
those with a multidisciplinary environmental background to specialise in urban sustainability and climate change in an intercultural context.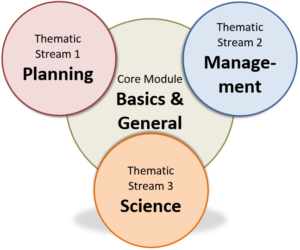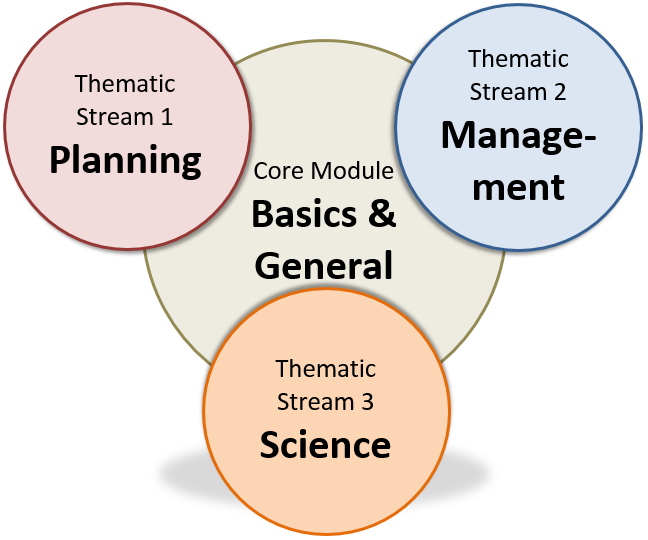 We propose to achieve this by the integration of thematic knowledge on three subject-specific streams (Planning and Management informed by adaptation and mitigation Science) as shown in the illustration above, but linking these into a coherent curriculum that produces the next generation of thought leaders able to manage urban climate change in a sustainable manner.